In her book, Multipliers: How the best leaders make everyone smarter, author Liz Wiseman argues that there are two types of leaders: those who accidentally diminish others, and those who multiply the intelligence and capabilities of their teams. Which one are you? I'm willing to bet that unless you too have been exposed to Liz and her team's work, you have some accidental diminisher tendencies that you're going to want to know about.
Liz Wiseman's award-winning book, Multipliers.
At a recent conference I facilitated in Barbados for the Tree Care Industry Association's Members, Wiseman and one of her partners at The Wiseman Group, Shawn Vanderhoven, led a workshop to help business owners increase their self-awareness and create habit chains to swap out their diminishing behaviors with those that multiply the capabilities of their people. Here are my biggest takeaways from working with the incredible humans who make up the tree care industry and the experience of sharing the stage with Liz and her team.

Hilton Barbados Resort: Where TCIA's Winter Management Conference was held in 2023.
TCIA's Commitment to their Mission: EOS®, Multipliers, & Growing Smart Leaders
Established in 1938, the National Arborist Association (now Tree Care Industry Association) set out with a mission of advancing tree care businesses. Through the development of safety and education programs, standards of tree care practice, and management information for tree and landscape firms around the world. They've certainly realized that goal, yet through conversations with their leadership team it's clear they have a growth mindset and are determined to continue branching out. Pun intended.
In recent years, TCIA's CEO, David White, and their board members have leveled things up and demonstrated their commitment to making this unique industry association a model for others to follow. Around the time that David White took over as CEO, they implemented EOS®, an operating system that helps entrepreneurial-minded leaders get extreme clarity on their vision through simple tools, proven processes, and a formula that helps improve the lives of every human the business affects.
The EOS® Model. An operating system for entrepreneurial businesses to get extreme clarity on their vision and achieve healthy traction in their business.
While at an EOS® conference in Orlando, David heard CultureShoc's founder and Expert EOS Implementer®, Ron Kaminski, give a keynote about the power of adopting a buffalo mentality, and we've had the pleasure of working together to develop TCIA's internal team ever since. This, however, was the first opportunity we've had to get exposure to their member population at one of their annual conferences.

Into The Storm by CultureShoc. When a storm rolls through, cows turn in the other direction and try to outrun it. They're never successful and it prolongs their time in pain. Buffalo, on the other hand, turn towards the storm, charging into and through it knowing they'll reach sunny skies faster. Regardless of someone's responsibilities or functions, they can apply this mentality to all aspects of their life.
The impact that Multipliers: How the Best Leaders make their People Smarter, had on me, before the conference.
Having already read one of Liz Wiseman's books, Rookie Smarts: Why Learning Beats Knowing in the New Game of Work, earlier in my career; I was initially presented with the opportunity to contribute at TCIA's WMC early in 2022 and was told that I'd be presenting alongside Liz, where she and her team would be conducting a workshop based on one of her other books, this one a New York Times bestseller that helped earn her a coveted 'Top 10 leadership thinkers in the world award', Multipliers.
Not sure how I ever missed that one but I quickly consumed the material, took the free Accidental Diminisher quiz, and ran some of the Multiplier experiments myself, and let me just say…Holy Sh*t.
For someone who considers themself pretty self-aware as a leader, and a thought leader of their own in this space, my stomach was in knots as I identified times I'd unknowingly exhibited every single one of the Accidental Diminisher tendencies in the book (which apparently is more common than I realized at the time). Shortly after I then felt energized upon finding a clear direction on how to convert these into behaviors that multiply the intelligence of those around me instead.
Most managers unknowingly subject their employees to at least one of these tendencies and drain intelligence from their people. What's worse, their workers aren't likely to tell them before it leads to stress, burnout, and complacency.
Around this same time, I began working with a couple of new executive teams and when diagnosing some of the obstacles that they shared it was clear as day…they too were struggling with the unintended consequences of their accidental diminisher tendencies.
It felt like the stars aligned as this Multiplier concept dovetailed nicely with the other principles I was already discussing with them, so I recommended the free quiz and the book. When meeting with them a few short weeks later I saw the same look on this client's face as I surely had when I realized how behaviors I perceived as personal strengths had actually held back people whom I cared so deeply about leading.
Now I'm not one to get starstruck. One of the roles I held at Sony Electronics early in my career was the GM of a store in Beverly Hills, where I interacted with some high-profile folks on a daily basis. They're just people like everyone else, they just happen to be plastered all over television, drive Lamborghinis, and have cameras following them everywhere…ya know, just people.
Regardless, to say that I was looking forward to this opportunity, not only to work with Liz but also to contribute to the betterment of what I knew to be a truly unique and incredible community of humans at TCIA, IN BARBADOS of all places, would be an understatement. They say to never meet your heroes because you'll be disappointed. With Liz, however, that was not the case. In fact, she politely grabbed my attention before we kicked things off and pointed out that I'd left the tacking stitches on the back of a newly acquired blazer, before kindly helping me remove them.
I was a little disappointed that we weren't able to sit down to record an interview for our upcoming ITS Leaders Podcast, but she seemed open to doing so virtually at a later time when she wasn't on a tropical island… Can't fault her one bit for that one and I almost felt bad for asking after I realized she'd traveled with her husband and was leaving the next day!
What exactly is a Multiplier?
Some of the things that most characterize a Multiplier are:
Seeing and using genius in others
Intellectual curiosity
Creating a safe environment to take risks
Listening
In Liz Wiseman's words:
"Multipliers are leaders who use their intelligence to amplify the smarts and capabilities of the people around them. They build teams that accomplish more than they could have on their own, creating an organization filled with energy and momentum."
Rather than wanting or needing to feel like the smartest person in the room, a Multiplier is a genius maker. They make those around them better leaders and capitalize on their collective genius to achieve the highest level of organizational success.
Some of The Wiseman Group's research shows that across the United States, below 50% of people's intelligence and capabilities are being leveraged. While some of this can be attributed to them not being in an organization that aligns with their personal core values, or not being in a role that aligns with their instinctive strengths or native genius, like most things, the majority of this falls on the leaders that they work for.
This stat was reinforced when we broke into groups and talked about a time that each of us worked for a diminisher and estimated the % of our intelligence that we'd utilized at that time. A sharp member of the audience ran some quick math and found that the average in the room was around 40%.
Photo from the crowd at TCIA's 2023 Winter Management Conference.
The reason even a successful leader can develop accidental diminisher tendencies as they move into senior executive roles.
"It is often with the noblest of intentions that we cause the most damage."
Liz has been quoted saying some variation of this numerous times and there's an almost sad truth to it.
Something incredibly unique about the way each of these Accidental Diminisher tendencies is explained is how on the surface, they appear positive.
In fact, these behaviors are likely things you've been rewarded for earlier in your career, that you now see in contributors and recognize as strengths.
Shawn Vanderhoven, a partner at The Wiseman Group, explains how earlier in your career you're recognized for demonstrating value by having or finding the right answers. However, as you grow into more senior leadership roles, you contribute more value by having or finding the right questions.

Quote by Albert Einstein, highlights the importance of curiosity in an effective leader rather than other significant skills.
He then takes the group through the creation of a habit chain like so: if you realize someone on your team is missing a deadline (trigger), someone with the AD tendency of a Rescuer may lean in and take over with the intention of being helpful (behavior), and when things start moving to completion (surface result), the Rescuer feels important as a contributor and problem solver (hidden reward), but behind the scenes, there's an unintended consequence where the person you helped stops taking ownership in future challenges expecting you to swoop in (AD consequence).
Now with that same trigger, if you swap in the parallel Multiplier behavior (Give it Back) of jumping in to contribute but clearly giving ownership back to the person, the surface result stays the same but the hidden reward is now that this person feels empowered and confident, leading to a new Multiplier consequence; they grow and trust they can share their struggles.
This particular example may be one of the easier ones to spot and self-assess, but I assure you that some of the other Accident Diminisher tendencies like that of the 'Optimist', 'Pacesetter', or 'Rapid Responder' don't make it nearly as easy to spot the AD consequence.
That's why it's important to do the work in order to keep this new-found awareness alive. Liz and Shawn laid out the path for all in attendance with clear tools and exercises to do with their teams, including "the lazy way to be a multiplier" as Liz put it, which is simply talking about your own Accidental Diminisher tendencies openly with your team and asking them to share which other you might be missing. This common language gives confidence and a platform for open discussion.
Being more intimately involved with the group, I pulled out a proven technique from CultureShoc's ITS Leaders programs and had everyone pick out an accountability partner from the room. Someone they didn't know well, that would commit to touching base with them in 30 days to ensure they've at the very least taken the lazy approach to be a Multiplier once they got back home, and expecting the same accountability in return.
We've found success with this because we know how easy it can be, even after a profound realization, to slip back into your routine or get sidetracked by some unforeseen fire drill never to retain or apply the newfound practices. The higher up you go in an organization, the less natural accountability you get from others, and at times we need one another to ensure we follow through.
A big thinker realizes that their ability to amplify intelligence and make space for new ideas from others is vital to achieving success at the highest level.
Combining a focus on Vulnerability-Based Trust with the Multiplier's Approach to Leadership.
Now after the session and right outside of the conference room, some folks were chatting about their commitments to openly discussing personal AD tendencies with their teams before seeking out criticism, and I overheard an understandable fear.
A few folks, having taken a bit of a gut punch to heighten their self-awareness, were talking about how their team still may not be fully candid with them in sharing how they feel they've been diminished.
I jumped in to ask a few questions and just like with most relational issues and concerns, you can peel back layers to uncover that at the roots there's a lack of vulnerability-based trust.
While one of the Multiplier exercises is specifically crafted to help leaders show humility, the 'Talk up your Mistakes' experiment, bringing this back to Patrick Lencioni's Five Dysfunctions of a Team model was helpful.

Patrick Lencioni is an authority in leadership and team dynamics. Five Dysfunctions of a Team has proven to be one of the best resources an employee can have. More times than not, the reason that solving problems is a struggle is that there's not a strong enough foundation of trust.
Without VBT, you will never have healthy conflict, instead, you'll find artificial harmony. Without healthy conflict, you won't get a universal commitment. When not everyone is committed, the accountability will be hierarchical instead of a culture of 360 accountability, and the results you see may be decent, but never as good as they could be if you put all your focus on first strengthening that trust.
Here's a quick 1-page document that we use to help arm teams with tangible ways to intentionally build trust. Pro tip: It's not necessarily about the amount of time you've known someone as much as it is the number of vulnerable moments you've shared.

CultureShoc's 5 BE's of Trust is from a course in their ITS Leaders Program. Rather than assume trust simply comes with time, it gives an understanding of how to accelerate trust. Executives at companies who make trust-building a priority will attract and retain top talent, fail less, and lead their teams to better results.
Some of the most sincere and genuine people I've ever met.
While I entered this week most excited about the chance to visit the island of Barbados and work with Liz Wiseman on effective leadership practices, the biggest highlight for me ended up being the interactions I had with those in the tree care industry. My work has given me the pleasure of working with great people in a bunch of different industries, but there is something unique and special about this community of humans working in tree care.
The authenticity and depth of the conversations I had reminded me of those I have with my closest friends. Most folks I spoke with were eager to learn and just as willing to share. The collective wisdom of the group was remarkable and I tried my hardest to pull that out to share with the larger group during our industry networking roundtable discussions. People were grateful and complimentary of the insights and energy I shared but also willing to share candid criticism when I asked for it. I grew this week. I made friends this week. Hopefully, I also made a difference in the lives of these friggin' awesome people because I sure tried my hardest and they deserved every bit of it and more.
As I make some final edits on the flight home I luckily remembered a few last things:
Go watch some tree climbing competitions on YouTube, it's insanely cool and gets barely any coverage despite being an extreme sport where people travel from all over the world to compete in regional contests.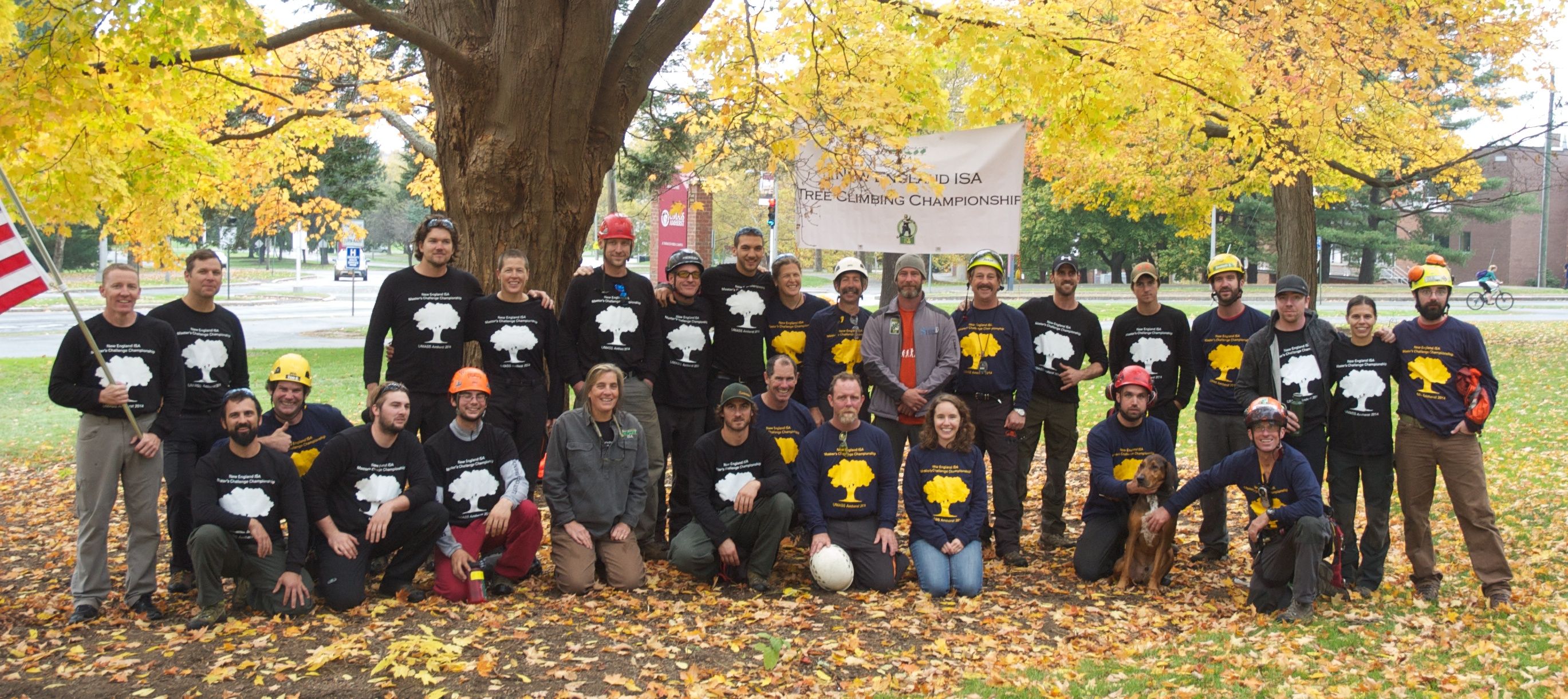 A group of friendly folks at one of the International Tree Climbing Competitions.
2. Look up Saluting Branches and consider contributing in some way. I'd heard about this non-profit from a few owners whom I'd really connected with during the week. They honor American service men and women by organizing volunteer tree and landscape care for the property dedicated to our veterans. I was already a fan after hearing how passionately people spoke about it and thinking of contributing somehow this coming year (even if it was just doing grunt work or holding a stopwatch where I wouldn't get in the way of the pros). Then while waiting to board my plane home the president of Saluting Branches (whom I didn't even know was at the conference) came up and introduced himself, shared a compliment, and said he'd be in touch. That brief interaction totally brought it all together and validated what I was feeling about this industry.
This past year, Saluting Branches had over 3,000 volunteers in 80+ locations donate over $3 million in services in just one day.
If I wasn't an absolute liability with a chainsaw I might even consider changing gears to spend more time in it. But I am, I love what I do, and I'm pretty sure that I can be of most service to these great humans by utilizing my instinctive strengths in my role with CultureShoc.
In conclusion
When looking for tree care services, I highly recommend seeking out those who are accredited through TCIA (Tree Care Industry Association) and ISA certified (International Society of Arboriculture).
When leading people, it's your responsibility to take whatever steps necessary to improve your self-awareness and seek out criticism. Check out Multipliers: How The Best Leaders Make Their People Smarter and reach out to us at CultureShoc to learn more about democratic leadership development programs that help improve company culture.
CultureShoc is a high-performance engagement and culture firm based in Westlake, OH that works with organizations all over the U.S. They have a team of EOS® implementers, offer Kolbe™ & Working Genius workshops, conduct culture & organizational health assessments, and prepare emerging leaders for greater contribution through 1:1 Coaching & ITS (Into The Storm) Leaders Development programs.
Thanks for taking the time to read this latest article. We hope you gained something from it and would encourage you to sign up for our free monthly newsletter. At CultureShoc we're determined to Discover, Engage, and Grow Leaders; so check us out on YouTube, LinkedIn, Instagram, and TikTok for tips on effective leadership and strengthening the culture at your organization. You can Contact Us here.
Good luck in swapping out those diminishing behaviors for ones that multiply the capabilities and intelligence of the people around you!
All the best,
Joe Jurec
About the Author: Joe Jurec is CultureShoc's Growth Leader & ITS Coach. A Cleveland native who spent a decade living in other parts of the U.S. before returning home to The Land with his wife in 2016. He's a father of two, an avid Cleveland sports fan, and says that San Diego is his favorite place in the country. Prior to joining the team at CultureShoc he led learning and change programs at Sony Electronics and Sears Holdings and served as Managing Director of multiple start-ups in the Energy & SaaS arenas.
Kolbe A: 5-3-9-2 | Meyer's Briggs: ENFJ | Working Genius: Galvanizing & Invention